76th Week (out of the hospital)
Thank you all for your prayers and warm thoughts concerning Rory's ordeal in the hospital. Her drainage tube is finally out of her leg, and she's happy as a clam. We were told by our doctors (after the whole thing was over) that had we waited another 24 hours before seeking treatment, the bacteria would have eaten away tissue (as opposed to the fat it did eat) from her leg, and that it would have been a much longer stay involving multiple reconstructive surgeries. However, the wonderful doctors at Children's Hospital of Oakland and our FANTASTIC pediatrician saved her that trauma, and the LONG recovery it would have entailed.
Oh, and she's learned 4 ASL signs (since my mom, the speech ath was up to visit). Check the videos for "food", "more", "milk" and "please."

Photos Taken 1/26-2/1
Out of surgery and getting some chow!
"What're you looking at?"
AAA, it's akk OK!
With Liz!
With Nana
All cuddled up (finally back at home)

WARNING!!!

The next two photos are of her tube. If you don't want to see, just scroll on by.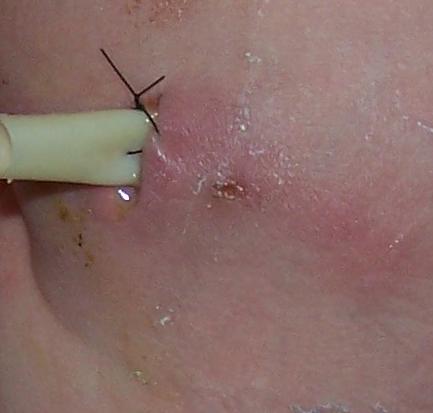 Well, I warned you!
Home for lunch
She feels better!
Lunching at work
Food!
More milk!
Walking in Papa's boots!
Now tubeless!
Site Directory
Martos Home Page
Baby Updates Page
Back to 75th Week Pictures
77th Week Pictures