Ah, weddings. They really are one of the sweetest moments in life, I believe. And I'm not just saying that because I just got married either. Okay, well, maybe that's a part of it. The man I married has been so good to me for so long, that I couldn't imagine living my life without him. This was our invitation, by the way. Very pretty and simple, which was, of course, what we were going for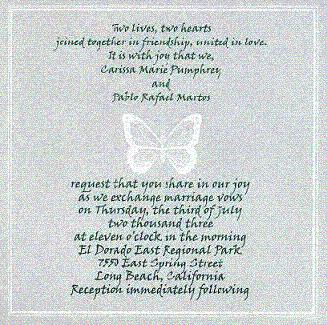 This is a really nice photo of our rings (and one of my earliest photo editing jobs. I'm rather proud of how it turned out. (Yes, that is an emerald in my engagement ring...I'm not a diamond fan)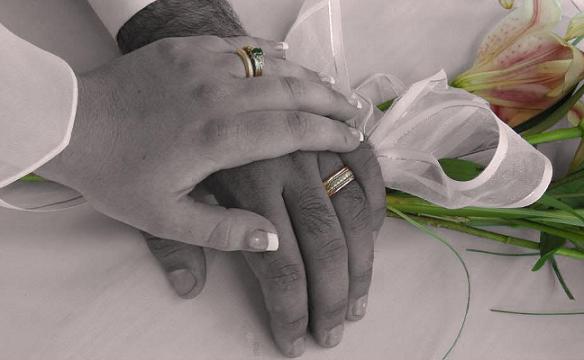 I am normally really nervous around cameras, but this seemed to turn out nicely, and I think it has to do with the fact that I wasn't nervous about marrying him. About the wedding coming off without a hitch? Yes. About that whole life commitment thing? Not in the slightest.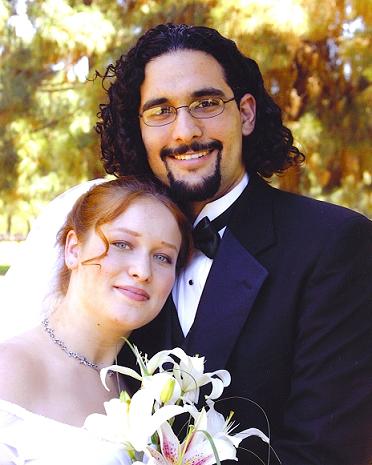 I was so worried about having no good pictures from the wedding because I am so camera shy that I actually went and paid for posed photos a week in advance. It also got me an excuse to try on all my white finery before hand, but that had nothing to do with it. Really.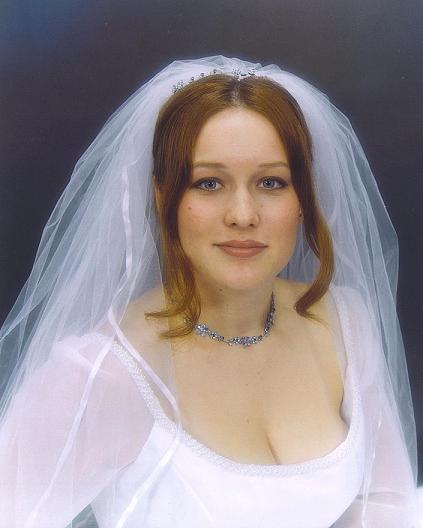 This is a wonderful picture of my husband and I with our groomsmen. It's a sweet photo, especially when you consider how odd it is to see all these kids I grew up with in finery. Now I know why they only
rent
tuxes to young men for weddings.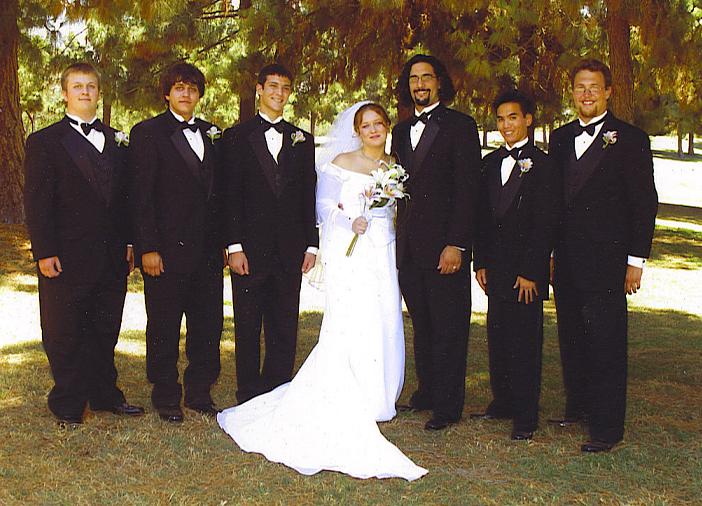 My bridesmaids: Marina (Pablo's sister), Cindy (my cousin), and Annie,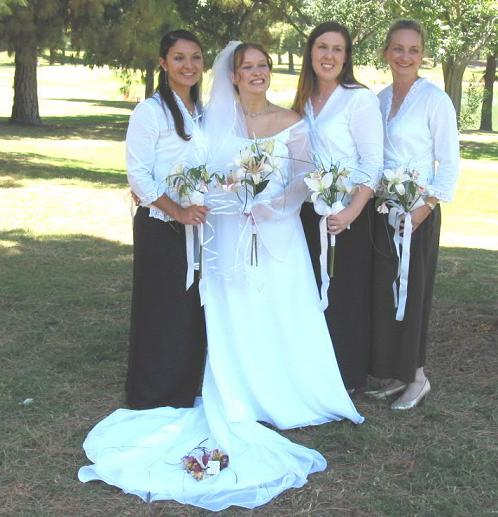 Annie, my matron-of-honor. What would I have done without you?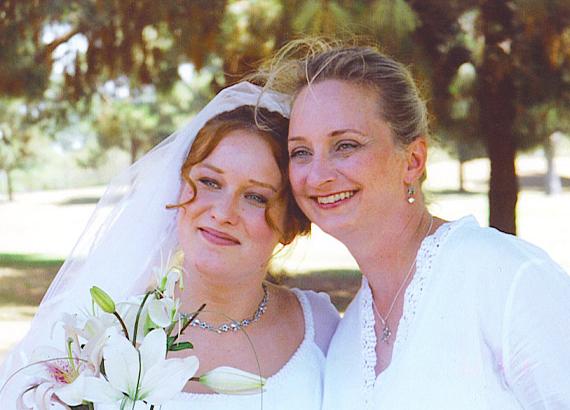 My husband's family is huge! This is all those who could make it to the wedding...with two second cousins or so...and they're missing mom's side of the family!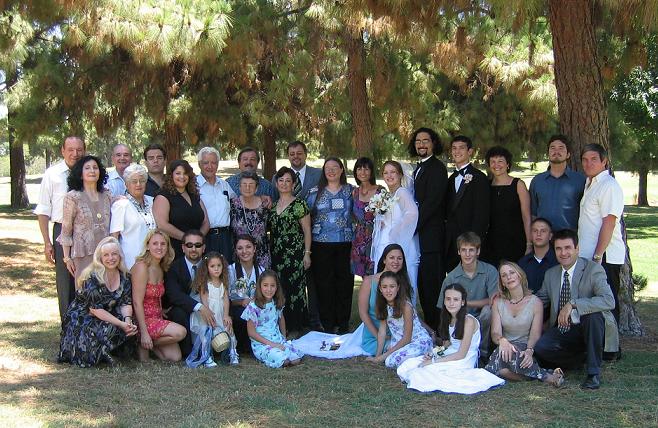 My family isn't quite so big, and this is everybody!
For someone as nervous and camera shy as me, can you imagine what this was like? All I knew was that I had to make it to the end of the aisle, because that's where he was waiting for me.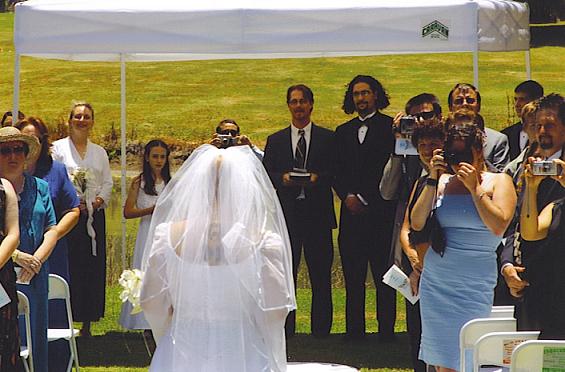 I did the walk by myself (no one's giving me away like cattle) and it was the most interminable journey I've ever taken. I was afraid I was going to fall down or pass out every step of the way, and I knew I was blushing something awful every time I looked up and saw him.
You can see two of my tatoos here! Yay!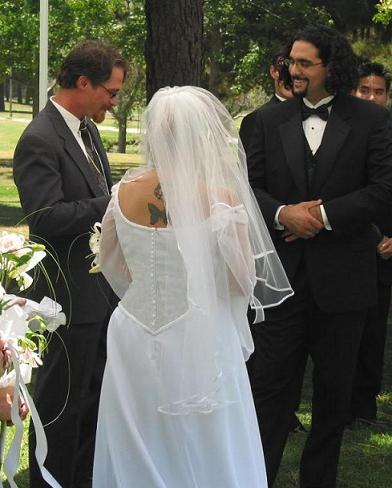 It was the first wedding our pastor had ever done, and we were so worried about how it would go. He really made us feel more at ease, though, let me tell you. Joseph isn't an intimidating man, though I was afraid he would burst into giggles, which would have been the end of it all.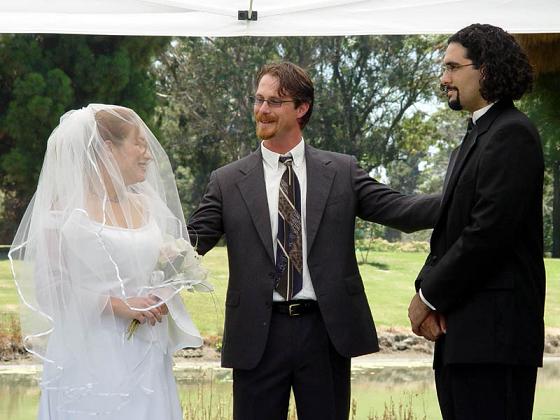 You may now kiss each other in public. (Look closely...you can see him smiling)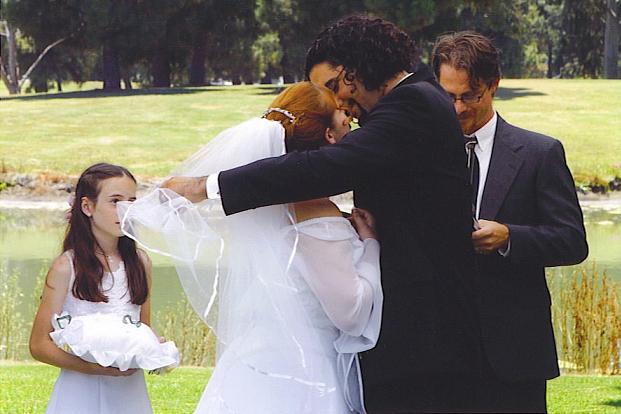 Last Week of Vacation
Site Directory